Alive in the Spirit returns for a second online transtasman conference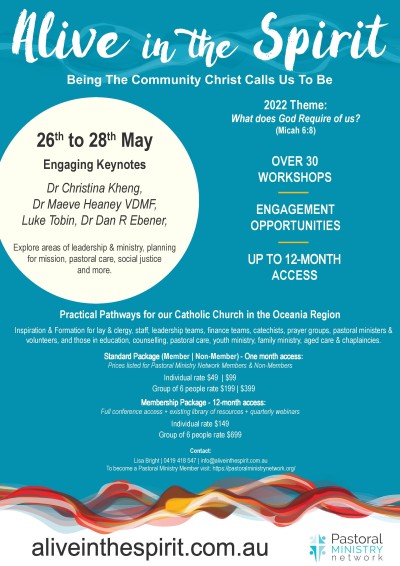 Catholic networks in Aotearoa New Zealand and Australia are again co-hosting the Alive in the Spirit virtual conference to enrich Catholic communities as the two countries emerge from the Covid-19 pandemic.
Alive in the Spirit returns from May 26 to 28 with the theme: "What does God require of us?" The interactive online pastoral experience offers individuals and groups a variety of ways to engage flexibly.
Last year, over 1000 bishops, priests, deacons, religious, members of pastoral councils, parish and diocesan staff and ministry teams from both countries were inspired by many homegrown ideas, practical pathways and opportunities to renew and revitalise pastoral settings.
Amy Armstrong, Alive in the Spirit's New Zealand organiser, says with unrestricted Mass now allowed again as pandemic restrictions ease, many people are hungering for fresh hope, new ideas, and positive stories and models of practice in service of Christ's mission.
"Our Catholic Church offers so much richness, and Alive in the Spirit celebrates the good of who we are, while inviting us to continue to cooperate with the Holy Spirit as we engage with the Signs of the Times in our Oceania Region," says Amy, who is the pastoral ministry coordinator for the Diocese of Dunedin.
"The Alive in the Spirit conference offers to help engage your parishioners and communities with 30 workshops, amazing keynotes, and balancing on-screen input with time for off-screen prayer, reflection and a call to action. It's affordable, and flexible; you have access to the workshops for one year so you can watch when it suits your group."
Go here for details: https://aliveinthespirit.com.au/