Archbishop Coleridge to address NZ Catholic priests at Rotorua assembly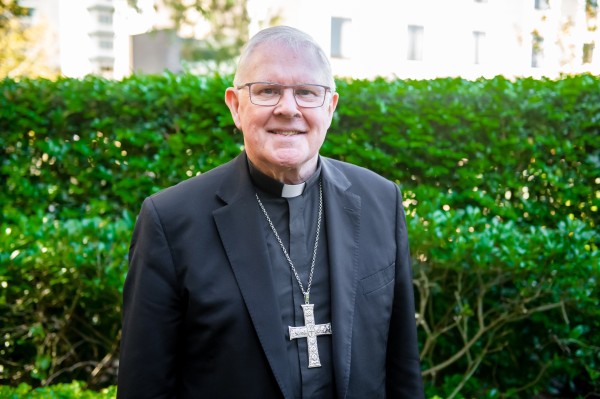 Archbishop of Brisbane Mark Coleridge will be one of the speakers at a week-long assembly of 170 Catholic priests to be held in Rotorua next month.
The National Assembly of Diocesan Priests from October 9 to 13 will be the first such meeting of Catholic parish priests since the one held in Christchurch in 2018.
The assembly will let priests from the country's six dioceses and most of its 200 parishes talk about their work and hear speakers on topical subjects.
Archbishop Coleridge (pictured) has been Archbishop of Brisbane since 2012. Before that he was Archbishop of Canberra–Goulburn (2006–2012) and an auxiliary bishop of the Archdiocese of Melbourne (2002–2006). He was ordained a priest in Melbourne in 1974. He has sessions with the assembly on both the Tuesday and Wednesday mornings.
Organising committee chair, Fr Michael Hishon, Parish Priest of St Peter Chanel parish in Dunedin, notes the importance of holding the assembly in times of constant change.
"We are meeting for inspiration as leaders in today's church, to enjoy the reunion of friends, and to have the opportunity of refreshment for one's mental and spiritual wellbeing," says Fr Hishon.
"We hope that this gathering will serve to affirm the clergy in the commitment that they have made, to come away feeling renewed in their courage as leaders, and to continue to experience our loving God's constant support and guidance as we strive to serve God's people."
The incoming Bishop of Palmerston North, Bishop-elect John Adams, will also speak at the assembly. His ordination on 30 September is shortly before the assembly.
Other speakers include Auckland theologian Dr Therese Lautua and Wellington Archdiocese pastoral ministry adviser Lucienne Hensel, whose topic is "Being called forth in synodality". Rebecca Taylor-Hunt, Director of the Catholic Enquiry Centre, will talk about the reimagining of the CEC currently taking place under her leadership.
James van Schie, General Manager of the Auckland Diocese, and his wife Hannah will talk about their faith practice and life as a Catholic couple.
The assembly is being held in the Novotel Rotorua Lakeside Hotel.