Support World Mission Sunday 23 October to help people enduring poverty, violence and oppression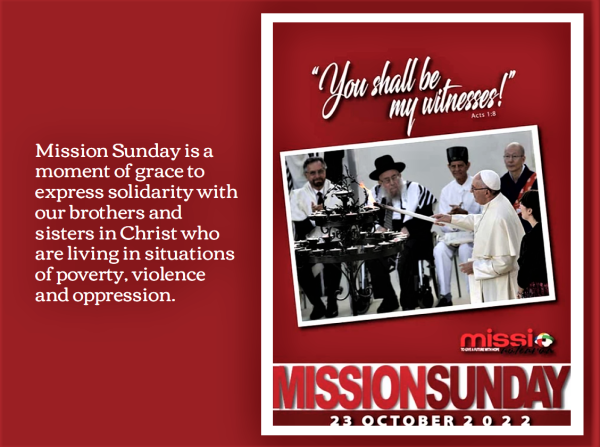 The country's Catholic bishops are urging all parishioners to support the work of Missio Aotearoa as we celebrate World Mission Sunday on 23 October.
World Mission Sunday is held in every Catholic community world-wide. It celebrates that all who are baptised are missionaries. We participate in the Mission of God – to bring the good news that God is here and wants to give life abundantly (Jn 10:10).
It was created by Pope Pius XI in 1926 as the day of prayer for missions.
World Mission Sunday is also a moment of grace to express solidarity with our brothers and sisters in Christ who are living in situations of poverty, violence and oppression. Every parish, school and community is invited to join this special event, and every cent, dollar and prayer you give to Missio helps missionaries everywhere continue their work.
Missio is the public-facing name of the Pontifical Mission Societies, the Catholic Church's official charity for overseas mission. Missio Aotearoa represents the Pontifical Mission Societies in New Zealand.
Missio Aotearoa's aim is to promote awareness of the mission of the Catholic Church – to present the good news of Jesus Christ to all peoples, and to generate spiritual, material and financial support for those working in mission and Third World territories.
The funds collected during the year by the Pontifical Mission Societies are sent directly to mission dioceses in need, as decided in Rome each May.
Missio Aotearoa has assisted various missions around the world, including:
• Rebuilding Churches in Sri Lanka after the bombings of Easter Sunday 2019
• Helping to lift underprivileged children out of poverty in three of the most marginalised rural areas in the Philippines; San Jose City, Lakeside Park and San Isidro.
• Helping to fund Stella Maris (Sao Bien) Seminary in Nha Trang, Vietnam.
Go to Missio Aotearoa here to donate to World Mission Sunday 2022.
The National Liturgy Office has World Mission Day resources here.