Week of Prayer for Christian Unity 2022 Resources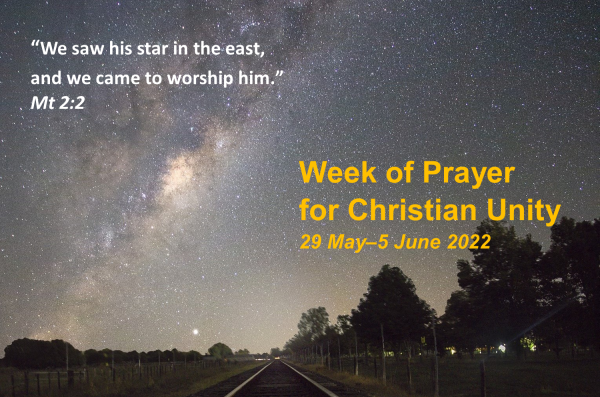 Week of Prayer for Christian Unity 2022 (29 May-5 June 2022)
Biblical Text for 2022:
"We saw his star in the East, and we came to worship him". (Matthew 2:2)
The Week of Prayer for Christian Unity is celebrated in the Southern Hemisphere between Ascension Sunday and Pentecost Sunday, thus from 29 May to 5 June in Aotearoa New Zealand for 2022.
The preparation of the resources for the Week of Prayer is overseen jointly by the World Council of Churches and the Pontifical Council for Promoting Christian Unity.
This year the Middle East Council of Churches based in Beirut, Lebanon, was entrusted with the task of choosing the theme and preparing texts for the Week of Prayer 2022. They chose the theme, "We have seen his star in the East and have come to pay homage to him" (Matthew 2:2). Their work was then adapted for Aotearoa New Zealand on behalf of the Catholic Bishops' Committee for Ecumenism.
The resources are intended for parishes, schools, and any group which may be able to make use of them. The Eight Days of Prayer is particularly suitable for use by individuals.
The chosen theme for this Week of Prayer, "We saw his star in the East, and we came to worship him," is based on Matthew 2:2. The Christians of the Middle East meeting in Beirut chose the theme of the star that rose in the east for a number of reasons. While many Western Christians celebrate Christmas, the more ancient feast, and still the principal feast of many Eastern Christians, is the epiphany when God's salvation is revealed to the nations in Bethlehem and at the Jordan. This focus on the theophany (the manifestation) is, in a sense, a treasure which Christians of the Middle East can offer to their brothers and sisters around the world.
Please note that the Homily from Pope Francis is dated January. This is because the Week is celebrated in January in the Northern Hemisphere.
Click on each link to open the resources:
1: Cardinal John's note for parish newsletters.
2: Introduction for those organising Week of Prayer for Christian Unity.
3: Eight Days of Prayer for WPCU 2021
4: WPCU 2022 Liturgy Order of Worship
5: WPCU 2022 Liturgy Order of Worship appendix
6: Homily of Pope Francis for Week of Prayer for Christian Unity